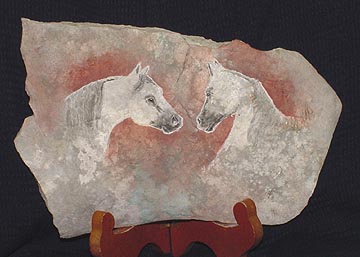 "More Horses Etched in Stone"

This page was last updated on: July 10, 2008
"The Meeting"          6H  X  9L

#WP004...........................

This painting was etched on Flagstone collected from the Texas Hill Country.  The horses were first etched then a very thin water wash of various reds and browns was applied to bring out the detail of the finished piece.  The grey dappeling that you see on the horses is actually the natural colloring of the rock.