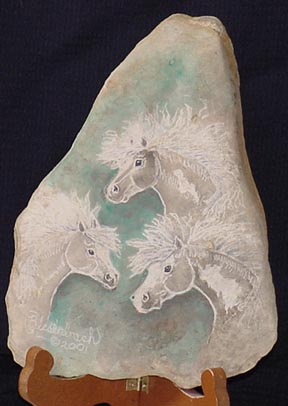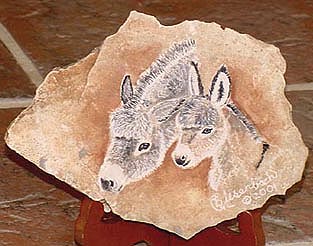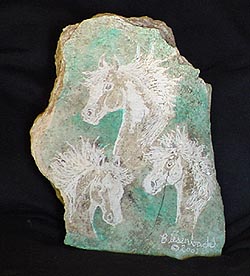 6 1/2"h   x   5"w   x  2 1/4"d                                                                   # WP001 ...............

Three wild ponies etched in stone.  A thin turquoise water wash was added after the etching was completed.

These wild ponies #WP001 were going to make their new home in North Carolina but unfortunately  they were totaly destroyed in shipping.   USPS.   The Wild Ponies #WP003 are going to make their new home in NC instead.

This page was last updated on: July 10, 2008

Artwork copyright

GL Biesenbach

All rights reserved


8 1/4L x  6 1/2"H x 1 1/2"D   

#MD001......................

These furry little mini donkeys were first etched in the Flagstone, found in the Texas Hill Country, then various shades of water wash were applied to add to the detail.

"Fuzzy Bundle of Joy"

2 mini donkeys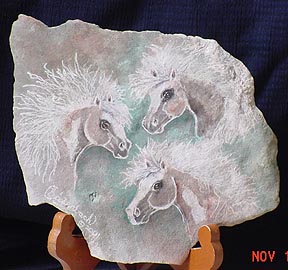 Three mini horse heads were etched in both of these upper stones.  A thin water wash of color was then added to bring out the detail.  All three of the Flagstones for these paintings were also collected from the Texas Hill Country.

# WP003..................$52



Please scroll

down for more