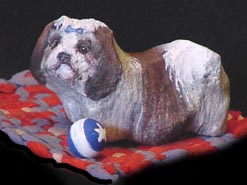 Yep!   It's hard to believe this is a rock...

But not just any old rock!   He is so lifelike.

Name:  Eric Von Duke of Doubt

Eyes:    Dark Brown and Expressive

Hair:   Long and  Silky

Personality:  Warm & Charming

Male, handsome and loveable looking for loving home. 

Enjoys playing ball and taking long walks on the beach...or in the park.

Loves to be pampered and shown off.

Prefers a show home but if not, then at least one with lots of kids...LOL

SHIH TZU

PAINTED ROCK

KENNEL CLUB

1 3/4"H x  2 3/4"L   x  1 3/8"D

Now who could resist

a face like that?

This page was last updated on: July 10, 2008
You may want to keep tabs on this page for more dogs to be added in the future. 

Start collecting them today!