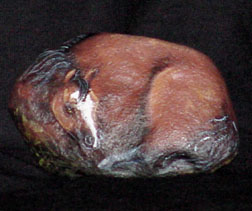 2 1/4"h   x   4"w   x   1 7/8d

Be sure to check back periodically for more horses to be added to this page as they are completed.

This page was last updated on: July 10, 2008

This precious little mini horse actually has her face and her hind leg a little bit raised from the rest of the rock giving it a little 3-D look.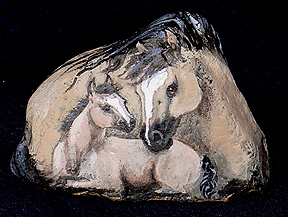 2 1/2H x 3 1/4L x 1 1/2D

stands on its own

#MF003....................$46

"Small Buckskin Mare and Foal"




Artwork Copyright

GL Biesenbach

All Rights Reserved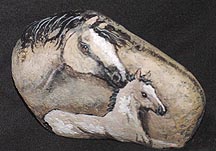 2 3/4"L   x   2"H   x  1"D

#MF004...................$22



Buckskin Mare

w/ Buckskin Overo Foal

There are 3 horses and 1 mini donkey on this page.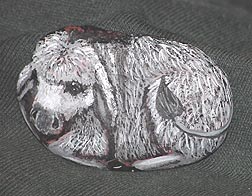 2 1/2"L  x 1 5/8"H

#MD002.............$18