Please be sure to                         and check back often

for more auctions!     

"Auction Gallery"

Here you will see all my auctions that are currently going on and you will

 also have the opportunity to bid on these pieces of art work.

Clicking on the thumbnail will take you directly to the auction page where that particular item is up for bids.

HAPPY BIDDING AND GOOD LUCK!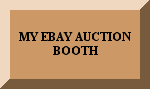 There are currently no listings on this auction


This page was last updated on: April 10, 2020